Wednesday (tommorow) is the hubby's birthday...... to celebrate he gets not only a day of special treats but a WEEK of special treats...... We started last Thursday and it will go on through his actual birthday.
Day One:
Dinner at this wonderful little Italian restaurant that we have been dieing to try Josie's! It is considered one of t he eight wonders of Kansas cuisine and if you are ever near scammon you should definitely try it! It was DELISH! We had the best bruchetta that we have ever had and our house salads with home made blue cheese dressing were TO DIE FOR! yum-o!!!!!!!!! Hubby had Chicken Alfredo and I had the Jumbo Ravioli with a meatball the size of my head!...... we had so much extra food we could eat for a week!
Not my photo..... courtesy of google images!
Day Two:
We slept in and then took Duncan for a walk at our favorite outdoor trails..... remember this place?
of course the hubby made one with birthday cake and peanut butter frozen yogurt and oreos and peanut butter cups on top!
Warning: there is so much to choose from you could DEFIANTLY go overboard as we did!
Day Three:
We tried a little BBQ place that the hubby wanted to try (we both worked sooo not too much exciting)
Day Four:
After work I took the Hubby to get a hair cut at the haircut- a -thon that was put on at the mall to support our local Humane Society. Quite a few local stylists donated time and supplies and the proceeds all went to the SEK humane Soceity! it was super cheap ($8 for a guys haircut) and they also offered 10 minute massages and mani- pedi's!!! (it was hubby's b-day treat but I just had to get my toenails painted too :0) (I have really non photogenic feet or I would show you my pretty toenails!
Day Five:
I made the hubby a pancake breakfast with homemade amaretto syrup YUM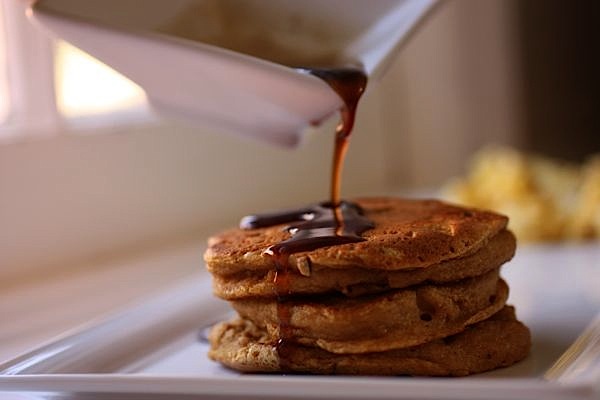 Not my pic.... courtesy of google images
Then we had a wonderful day setting up his sound system (he talked me into dragging his speakers out of storage and buying him new speaker cables soooo..... I guess we have surround sound now ;0) then we spent the rest of the day relaxing and watching movies.
Day Six:
The hubby went and got his license renewed (oh the joy of the DMV) and we had a lovely sandwich shop lunch.
Day Seven:
Present day! I also think we are going to travel to see some friends and family in Oklahoma City for a few days..... BE BACK SATURDAY!